We welcome both airline and private recreational flight students at all of our locations.
The Academy of Aviation was founded on the simple principle that flying should be safe, fun, and rewarding. Simultaneously, we are keenly aware of the industry beyond our walls. We strive to make available an environment for individual success thereby helping to ensure the long-term success of the aviation industry.
There is a growing demand for professional airline pilot training and recreational flying lessons and we are here to support you in whatever your pilot license aspirations may be. Our flight school prides itself in offering flexible scheduling for customers with a busy work or school schedule. We map out your flight lessons to keep you progressing quickly without compromising efficiency or safety. Find out about our Financial Aid options.
Apply Here
You don't have to have money right now to start your pilot education. A Wells Fargo Collegiate® student loan may help you pay for the costs associated with your professional and commercial flight training program. Academy of Aviation has partnered with Wells Fargo, and we have detailed information right here, on our Financial Aid information page.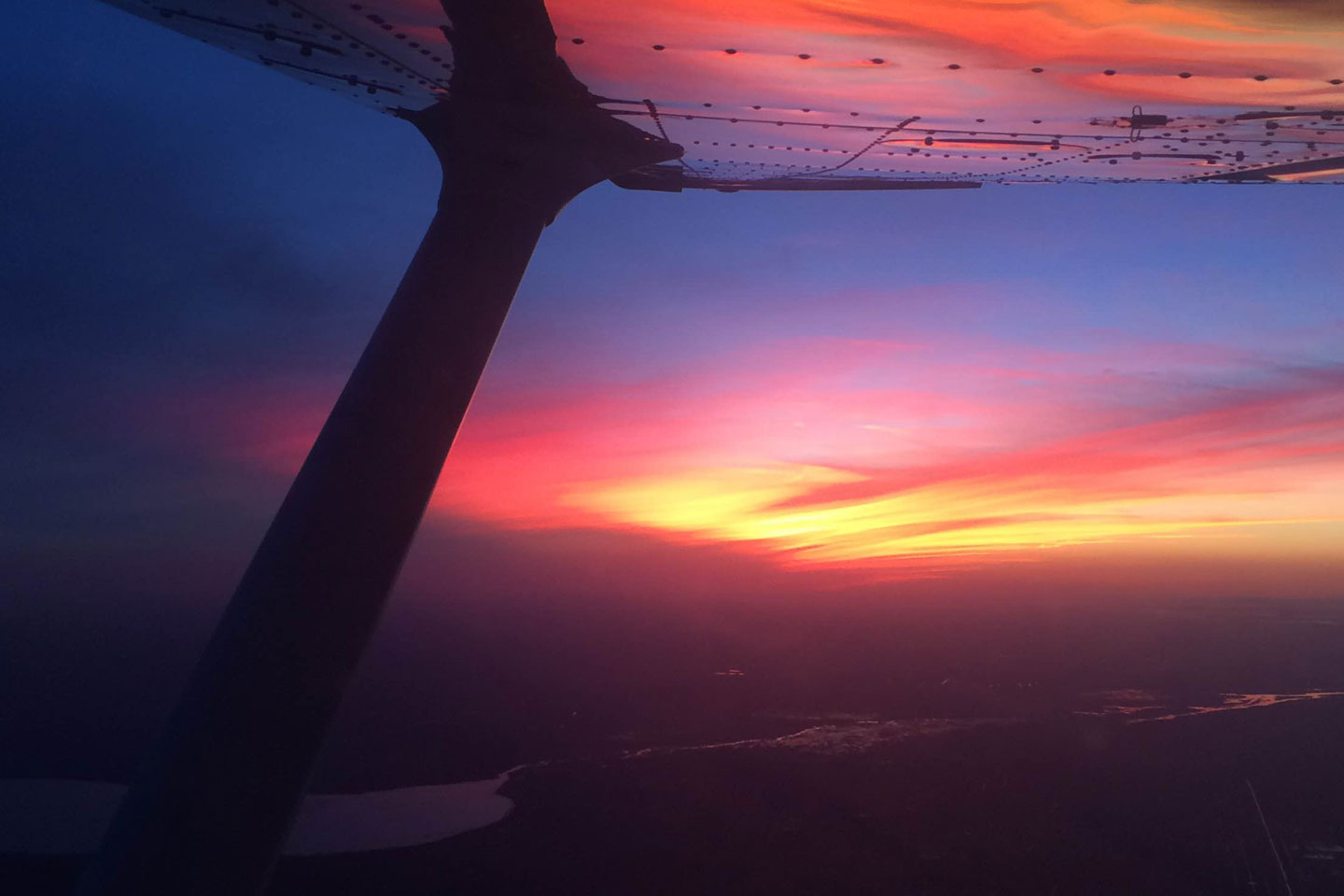 Flight School Courses
Our desire to grow the pilot community continues to drive us; seeking new ways to attract those who have the dream, and give it wings.

Private Pilot Certificate (PPL)
Private Pilot Course Duration:
Academy of Aviation prides itself in offering accelerated Private Pilot Certificate (commonly known as your PPL, or Private Pilot License) training for quick and efficient completion of your Private Pilot Course. How fast you finish is simple math. If you can take your checkride in 35-40 hours and you fly 5-6 hours per week you could finish in as little as 6 weeks. Of course, you must study hard, pass your FAA written exam, and dedicate yourself to learning for optimal results. Your progress is up to you. Not everyone is on a career path to work for an airline and we are also happy to accommodate busy work or school commitments with flexible scheduling.
What Can I Do with a Private Pilot Certificate?
An FAA Private Pilot Certificate allows you to fly throughout the United States and even internationally when you comply with the foreign country's regulations. As a Private Pilot, you can carry passengers for fun but you can't offer paid flight services. You can recoup operating expenses, such as fuel and tie down fees, from your passengers but you cannot charge them for the flight. Completion of your PPL grants you the privilege of flying anywhere under 18,000 feet, during the day and night, and the luxury of flying instead of sitting in highway traffic for business or vacation. Your only real restrictions are clouds and weather. Inclement weather that restricts your visibility, such as dense fog or heavy rain, should be avoided until you complete your Instrument Rating. With the additional Instrument and Multi-engine ratings you will be able to fly in most conditions that airline pilots do.
Private Pilot Training Details:
During your Private Pilot Training you will learn about airspace, how an aircraft works, how to perform basic maneuvers, radio communications with Air Traffic Control, obviously takeoff procedures, and more importantly, how to land the aircraft, even in emergency situations. Like every successful pilot before you, it all begins with theoretical learning. Complete your ground school hours online or in a classroom setting with Academy of Aviation.
Take advantage of simulator training to practice at a reduced cost. Make mistakes on the ground, learn from them, and try it again without the fear of being in the air. Listen to ATC communication as often as you can and practice your own responses. If English is your second language, Academy of Aviation uses simulator time to not only practice your flying skills but role play with your Instructor as ATC. Once you and your Flight Instructor are feeling confident with your performance in the simulator you're ready for the aircraft.
You will complete the required minimum practical training in preparation for your checkride. A huge training milestone will be your first solo flight where you will have your first chance to fly by yourself. Your Flight Instructor will ensure you have mastered the necessary theoretical and practical skills necessary to pass your checkride with a designated FAA examiner and will provide you with an endorsement for your Private Pilot License checkride to be scheduled.
The checkride consists of a verbal/oral exam in which you are asked questions about your theoretical knowledge and a flight exam to assess your skill level. You will be immediately notified if you have passed your Private Pilot License checkride or if you need to re-take a portion after some more practice. At Academy of Aviation we maintain a 92% first time pass rate for Private Pilot Course checkrides. You will be issued a printed temporary Private Pilot License until your physical card license is processed by the FAA and shipped to you in the mail.

Instrument Rating (IFR)
The FAA regulations allow you to begin working on the instrument rating right after you've obtained your private pilot certificate.
An Instrument Rating is a rating that is added to a Private Pilot or Commercial Pilot License and refers to the qualifications that a pilot must have in order to fly under Instrument Flight Rules or IFR. It allows you to fly an airplane when operating in visibility-reducing phenomena like clouds, fog or haze.
You will obtain additional flight training from a qualified Certified Instrument Flight Instructor (CFII), including rules and IFR procedures to enable you to legally and safely operate a properly equipped aircraft in Instrument Meteorological Conditions (IMC). Additional instruction in weather and more intensive instrument flight training in flight solely by reference to instruments is the core of Instrument Flight Training. Testing consists of a knowledge test and a practical test (known more commonly as a check ride). The check ride is divided into an oral part and a flight part.
For most pilots, the most significant value of flying under IFR is the ability to fly in instrument meteorological conditions (such as inside clouds). Additionally, all flights operating in Class A airspace must be conducted under IFR. In the United States, thus any pilot who plans to operate an aircraft capable of flying above 18,000 feet, such as a turbo-prop or a very light jet (VLJ) will definitely need to have an instrument rating. An instrument rating is also required when operating under Special Visual Flight Rules (SVFR) at night.

Commercial Pilot Certificate (CPL)
In order to be compensated for transporting people and property, pilots should obtain a Commercial Pilot Certificate (commonly known as a Commercial Pilot License or CPL). While in training, students should keep detailed logs of both their in-flight hours as well as their on-ground hours. A detailed article explaining examples of logging Pilot-In-Command time can be seen here.
In order to receive a CPL, students must pass a variety of medical and physical exams, an FAA written exam, and a check ride with flight standards that are more stringent and a knowledge level higher than that of the private pilot. Once pilots have obtained their license, they must pass regular physical screenings and practical flight tests in order to keep the status of the license up-to-date.
At Academy of Aviation, we take pride in preparing our students for all examinations on the way to their pilot license, and this includes making sure we cover all the required material for you to pass your written exams with ease and confidence. As a certified Cessna Pilot Center, we use Cessna developed computerized courses which closely resemble the FAA written exams, and we administer professionally proctored knowledge examinations in a relaxed and friendly environment.

Become a Flight Instructor (CFI)
Individuals with a CPL may seek employment as a pilot. According to job postings for aircraft pilots, employers seek pilots to fill First Officer positions with an airline, test new aircraft, develop flight simulation programs, and conduct national security missions. Employers preferred pilots with several years of flight experience and various pilot licenses.
As an enrollee of Academy of Aviation's Career Pilot program, we encourage students to apply for a Certified Flight Instructor job upon graduation. A position as an AOA flight instructor allows you to build experience and flight time; in about 18-22 months, you can build the flight experience required for the ATP Certificate and 1500-hour airline hiring minimums. The Airline Transport Pilot (ATP) certificate is the highest level of aircraft pilot certificate.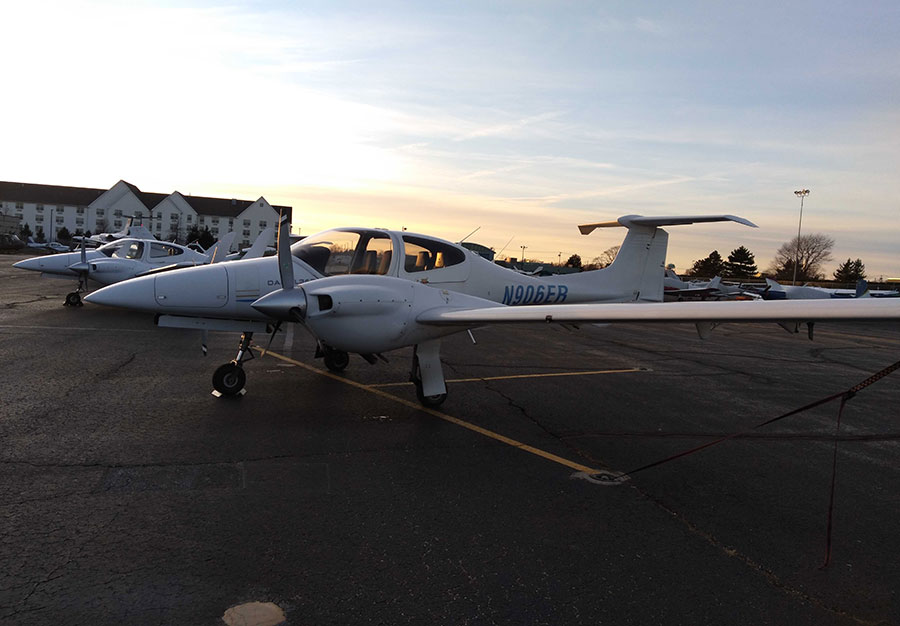 Academy of Aviation operates with a very simple purpose.
We strive to provide comprehensive, advanced and safe flight training for our students.
Training Courses