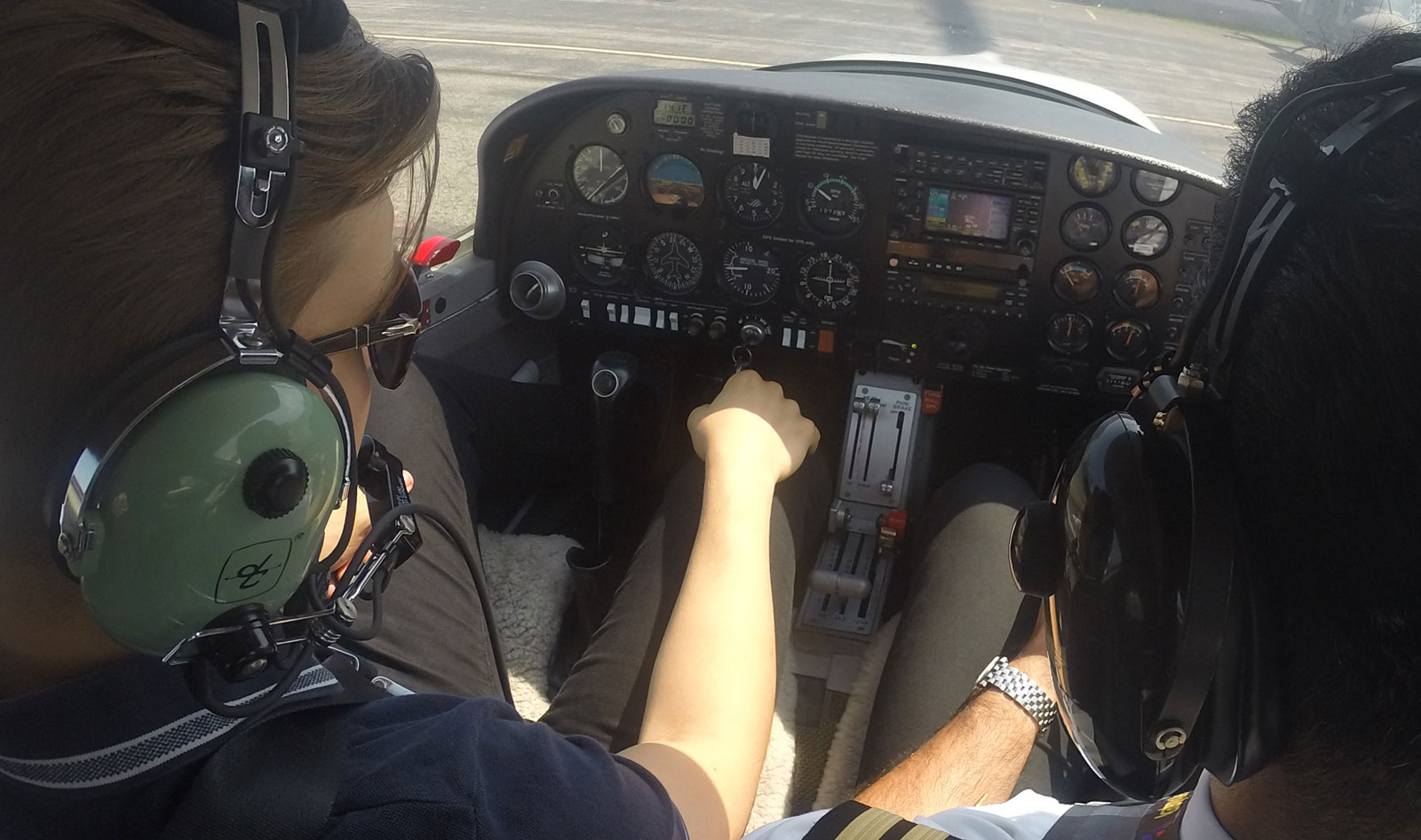 Aug. 6, 2020 Coronavirus Update: Monitoring the crisis and enforcing mandatory guidelines.
For the continued safety of our staff and students, Academy of Aviation is requiring masks to be worn at all times during flights, sim, and ground school. We are taking the ongoing COVID crisis seriously, and are proud of our staff and students for taking the appropriate precautions and following all safety and sanitizing guidelines.

May 25, 2020: AOA RTS (Return To Service)
Academy of Aviation will be accepting new enrollments starting May 25.
New enrollments will resume for all campuses beginning on May 25. Please contact your admissions representative for full information, as we will be following a strict protocol to ensure the health and safety of students, instructors and staff.
You will need to have a COVID-19 test completed before entering the school. To get a free test, Call the Hotline at 1-888-364-3065 or visit coronavirus.health.ny.gov.
Please allow a two-week wait period for your test results when anticipating your start date.
All students will need a face-covering (mask) for training. Please have your own, or you may be able to purchase a mask from us while our supplies last.

March 17, 2020: Modified Academy Plan of Action
After a full review of daily operations at the Academy, several areas have been identified that will significantly reduce personal interactions while still providing our students with the training they need. In effect, we have four major areas where personal contact can be drastically reduced. Office Interactions, Ground Lessons, Flight Lessons, and Support Services.


Campuses - Academy of Aviation campuses in Farmingdale and Westchester will be closed to everyone except very limited required staff. The Gastonia campus is following the same policies for students and instructors; however, our responsibility to manage the airport for the city dictates some additional staff is required.
FAA Written Examinations - The Academy is shutting down our testing Centers in New York and only scheduling exams for currently enrolled Academy of Aviation students. Tests will be limited to one exam at a time with a sterilization process conducted in between. Each applicant will receive their own testing supplement book that will be disposed of along with the other testing materials. The testing centers are closed on March 17th for an initial deep clean and to remove anything that is not needed in the room that would require sanitation between tests.
Finger Printing Service - Immediate suspension of all finger printing services to both Academy of Aviation new enrollments and the public.
Simulators - All Simulator lessons in New York are cancelled. This is a function of those offices being closed to all non-essential students and staff.
Ground Lessons - The Academy will be providing opportunities for remote ground school lessons provided the appropriate procedure is observed. A defined process for remote school is required for the Academy to maintain enough academic integrity to ensure the FAA, The Accrediting Commission, and Bureau of Proprietary School Supervision will be satisfied with these temporary measures.
Ground school lessons will be scheduled by a dispatcher, who will provide the student and instructor a conference bridge we will create on a managed calendar. The conference must take place on the "Google Hangouts" created by dispatch on our managed calendar.
Flight Lessons - The Academy will be dispatching lessons remotely. Students and Instructors will meet at the entrance to the ramp, call in for a dispatch, and receive their dispatch approval electronically. Dispatch will coordinate with ramp staff to have the aircraft bag with the keys in the aircraft. When the flight returns, the CFI will call dispatch to get checked in. Again, dispatch will send all required documents electronically and the ramp staff will collect the bag from the airplane and sanitize the interior.
Admissions and Enrollment will be moving to a fully remote process. Admissions interviews and enrollment paperwork processes will be conducted electronically or by telephone. Campus tours are suspended, and new enrollment start dates are being determined as we follow the course of the virus.
Again, the Academy fully supports the recommendation of the medical community to engage in social distancing and will continue to look for opportunities to provide the training our students need in an environment that is safe for the entire AOA Family.
We are again reminding students to stay at home if they feel they are showing any symptoms or feel they have been exposed. Academy of Aviation scheduling and cancellation policies are relaxed as we ask students to monitor the emergence of symptoms.
Blue Skies and Happy Landings,
Academy of Aviation